Wednesday, August 13th, 2008...4:43 pm
#52: Natural Childbirth
Comments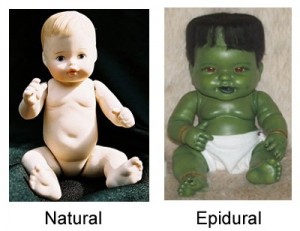 The Best Parent Ever is better than you because they birthed their child in such a better way than you, which is why your child will fail at everything they will ever do.
But not really. All your children will grow up to hate you by the time they are teenagers, whether they were expelled into a birthing tub surrounded by scented soy candles and dolphin-brained midwives, or ripped out in a morphine-soaked haze from your sliced-open abdomen like a bag of Butterball turkey giblets. But don't tell that to the Best Parent Ever, who will insist their childbirth technique (so often free of medication, epidurals, and even medical professionals) was the best thing they could have ever done for their future prodigies.
| | |
| --- | --- |
| Childbirth has become such an overly-produced and overly-commodified event (from both natural and "unnatural" proponents) that people have lost sight of how basic and simple an act it is. Little Baby Jesus got crapped out in a manger, for Christ's sake, and He did okay, right? So what are you saying? That your baby's more important than Christmas? Natural, epidural, C-section ? It all works out in the end. | |
So take that, MacDuff, "from his mother's womb untimely ripped." You may have killed MacBeth in a Caesarean-enriched rage, but Jesus is better than you, and so is the Best Parent Ever. Not only does the Best Parent Ever shamelessly boast about their natural childbirth experiences, but they are more adept at trawling Wikipedia for Shakespeare references like the one above. And that doth be why they be most bett'r than thou.


For more "helpful" parenting tips, join the BPE Discussion Board!