Saturday, May 3rd, 2008...3:48 pm
Results of 2008 Dumbest Baby Name Ever Contest
Comments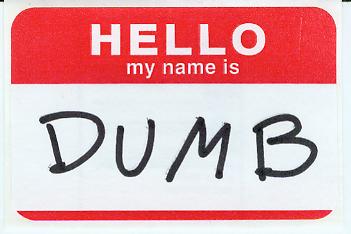 The Polls have closed and the 2008 Dumbest Baby Name Ever is…
Shi'thead.
Congratulations, Shi'theads everywhere. Your name is officially dumbest.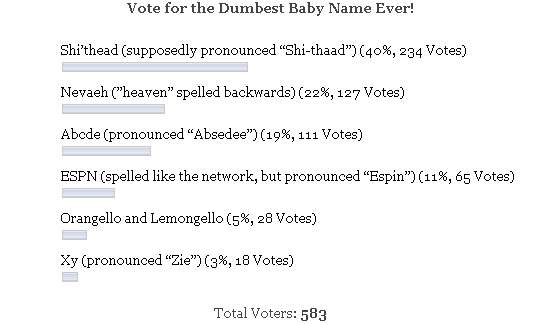 The Best Parent Ever is so much better than you because they have created an entirely new linguistic form to apply to their very special and unique (and better) children. It is the Dumb Baby Name.
Nearly 500 Dumb Baby Names were submitted by readers in our recent contest. The editors of BestParentEver.com chose six finalists for the following reasons…
Abcde (pronounced "Absedee") — We chose this for the sheer laziness of it. Need a baby name? Just take the first five letters of the alphabet.
EPSN (pronounced "Espin") — More like W.T.F.? And what if the parents suddenly start watching Fox Sports instead? Probably the only thing worse than having an unwanted name tattooed on your flesh, is having your kid named after a network you no longer watch.
Orangello and Lemongello (pronounced like they are spelled, but with a "jello" sound) — We like these names because they sound like dessert or after-dinner drinks. The advantages to this is that you can be in a restaurant, shouting at your kids, and the waiter might think you're just ordering very loudly. The next thing you know, a dish of something sweet and alcoholic shows up. Best Parent Ever wins again! (Added bonus: the urban dictionary defines Lemongello as "a given name meaning your butt is the widest part of your body." Orangello means "the mother of all flotsam.")
Nevaeh ("heaven" spelled backwards) — There is a whole subgenre of Dumb Baby Names in which a perfectly normal name is spelled backwards. Why? So the child can one day see "heaven" in the mirror? Or are these parents just dyslexic? And what happens when you combine a backwards spelling parent with a plain old lazy Dumb Name Parent. Can the name "Edcba" ("Abcde" backwards) be far behind?
Xy (pronounced "Zie") — Is this child named after their chormosomal contents? Who knows! It was one of many outstanding X names submitted, including Xyler (pronounced "Zyler") and Xyz (pronounced "Zice"). Face it: English-speaking people don't know how to pronounce names that begin with X. So even if you named your kid Xavier, you're still asking for trouble.
Shi'thead — Pronounced "Shi'thaad." Maybe in some parts of the world this is a perfectly normal name. But here it is just pure evil parenting genius.