Thursday, May 1st, 2008...1:08 am
#31: Parenting Coaches
Comments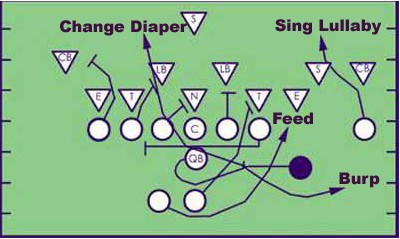 The Best Parent Ever realizes that every precious sapling has within it a demon seed; a progeny that defies even their fine-tuned sense of domestic engineering.  That's why some say "it takes a village to raise a child."  Unless you're the Best Parent Ever, in which case you say: "I'm hiring Parenting Coach!"
And why not?  Parenting Coaches are expensive, fashionable, and they clearly announce the superior qualities of one's breeding abilities even more than that $1,000 stroller that just casually ran over your foot at the farmer's market.
The rest of the procreating world may be asking friends and family — even Yahoo Groups — for help with childrearing challenges.  But this does nothing for the Best Parent Ever, other than shine a dim, energy-saving lightbulb on how they are almost just like everybody else.  And that just won't do — not when the Best Parent Ever can spend a substantial sum of money subcontracting their nurturing duties to a complete stranger.
So take that, grandma and grandpa!  Your childcare suggestions are useless unless you can sell yourself as a highly-paid professional.  But don't worry — "parenting coach" is a vague enough job title, like life coach, consultant, executive producer, or even vice president. Who knows what those people really do?  The Best Parent Ever does: a parenting coach is someone who proves, once again, that they are sooooo much better than you. (And by the way? Their "coach" soooo told them to tell you that).
For more "helpful" parenting tips, join the BPE Discussion Board!