Wednesday, April 23rd, 2008...6:12 pm
#28: Hannah Montana Concerts
Comments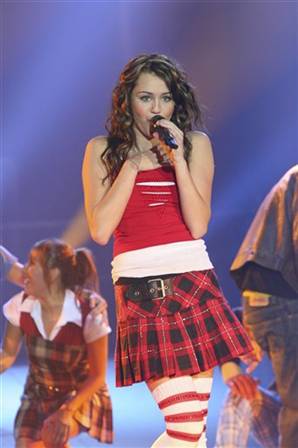 The best parent ever is better than you because they just paid $1,000 for a ticket to the Hannah Montana concert for their child on Ebay. Actually, they probably bought two or more more tickets, bringing the price of the 90-minute show to $2,000 plus. For lesser parents, this would cover either a mortgage payment or two, the price of a pre-owned motor vehicle, or perhaps even some minor Lasik surgery.
Why so much for a concert? Is it merely just to stifle the ear-piercing tantrum of a Miley Cyrus-deprived tween? Well, yes. But more importantly it is an opportunity for the Best Parent Ever (and those aspiring to be like them) to gather with thousands of other Best Parents Ever in a tribal communion of sorts. This is an exclusive club, whose membership demands a cultural obliqueness and a healthy five-figure max on the Paypal Visa card. Oh, yeah — and a tolerance for terrible bubblegum rock. Yes, even the Best Parent Ever has a capacity for self-sacrifice. But few other venues allow this kind of collective expression of white parent self-congratulation; an espirt de corps with like-minded sires that probably won't be felt again until that Ivy League Convocation or parent mixer at the liberal arts college in Vermont.
So take that, music fans everywhere! Today's wildly-exclusive and overpriced kiddy concerts are not about the music. It's about the privilege of being one amongst one peers. For the best parent ever, it is both a tribal celebration and a way to spend a ridiculous amount of money in pursuit of proving, once again, that they are better than you. As Hannah Montana herself might say, that is truly "the best of both worlds."
For more "helpful" parenting tips, join the BPE Discussion Board!