Wednesday, May 14th, 2008...6:39 pm
#33: Keeping up with Celebrity Parents
Comments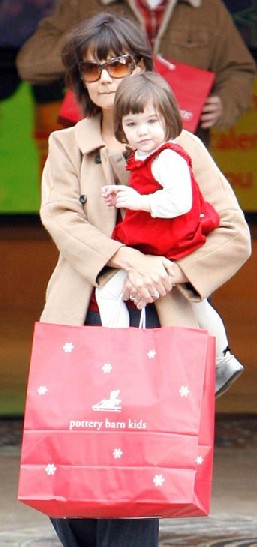 The Best Parent Ever is better than you because they are almost able to keep up with celebrity parents, which you can't do, because you are merely human.
Celebrities are not human. It's anybody's guess what life-form they are but the term "android" comes to mind. The android, er, movie star, is thus on a constant quest to prove their biological connection to the rest of the media-consuming public, which just happens to be human. Starting a family is, at the moment, one of their favorite strategies in pursuit of this goal (although, as Tom and Nicole discovered, merely adopting children is not enough to dispel suspicions of their malfunctioning bionic souls).
But offspring are messy, dirty, and relentlessly unfashionable on the red carpet, which is why an entire industry of absurdly high-end baby products suddenly appeared out of nowhere, starting pretty much after a nude Demi Moore showed us her future stretch marks on the cover of Vanity Fair in 1991. Prior to that, everyone — rich and poor alike — just bought their baby crap at Toys R Us. Now, an entire Celebrity Baby Industrial Military Complex has sprung up to feed and nuture this Brave New World of Baby Bumps, and along the way, extract fantastic sums from Best Parents all over the world, who want to be just like their robotrix role models.
So take that, non-celebrity breeders! The best you can hope for is to keep up with the celebrity "parenting" of Britney Spears (which shouldn't be too much of a problem). But not the Best Parent Ever. They are better than Britney and better than you too, as they put their name on the registry at Petit Tresor and Bel Bambini in West Hollywood, right next to J. Lo, Nicole, and Naomi. See you on babyrazzi.com!
For more "helpful" parenting tips, join the BPE Discussion Board!