Tuesday, April 8th, 2008...7:01 pm
#22: "Homemade" Baby Food
Comments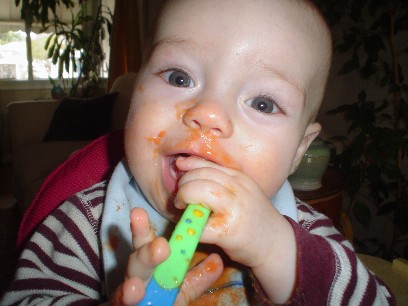 The Best Parent Ever is better than you because they feed their children fresh, organic, home-made baby food. Does this mean they are spending hours in front of a food processor mashing peas and summer squash? Duhhh…Is this called Hardest Working Parent Ever? No, it's called Best Parent Ever. And when the Best Parent Ever only wants the very best for their child, they hire someone else to do it.
In fact, an entire industry of "take out" baby food has sprung up recently in such prominent Best Parent Ever locales as Los Angeles, San Francisco, Seattle, and even New York. Instead of buying from a giant corporation that puts baby food in a jar, the Best White Parent Ever can now buy it from small mom and pop businesses that, well, put baby food in a jar. But at three times the price — so it must be best!
Yes, large companies like Gerber
and Earth's Best
have had certified organic baby food lines for years. But those who market to the Best Parent Ever are well aware of their resistance to mass-produced commodities of any kind. After all, how can one truly stand out amongst the crowd of wannabes at Mommy and Me if you're merely shoveling — gasp! — Beech Nut
into little Zoe's mouth? ANY parent can do that. But only the Best Parent Ever can say their child first tried the "Baby Tex Mex" mush at the baby food tasting room of Homemade Baby.
So take that, Gerber Baby, with your feeble attempts to call your new line of chicken and rice mush "organic." The Best Parent Ever has just ordered free-range chicken and risotto from the organic baby take-out place. It's also mush, but it's three times the price. And that's why the Best Parent Ever is better than you!
For more "helpful" parenting tips, join the BPE Discussion Board!