Monday, June 16th, 2008...8:57 pm
#41: The All-Purpose Placenta
Comments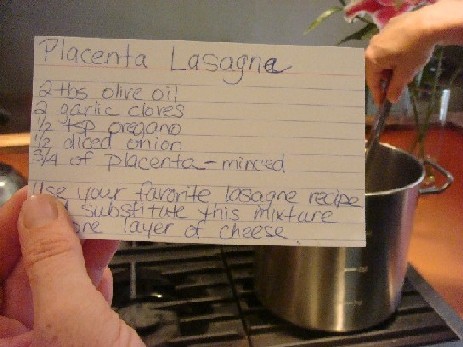 Quick test: you have just given birth and your body has expelled a bloody, viscous blob of uterine vomit called the afterbirth. Do you say (a) "Will someone please clean-up this medical waste?" Or (b) "Mmmm… That looks like it will make a nice tea!"
If you said (b)… Congratulations! You are a Best Parent Ever! In fact, there are many Best Parent Ever party plans for the human placenta. These include burying the placenta under a rose bush, turning it into some kind of stylish art or craft, and/or cooking it in any number of meals, including lasagna, pizza, and even a placenta roast. Have you vomited yet? If not, just type "placenta recipes" into that Google box in the upper right hand corner of this blog, and you will find all kinds of foodie websites devoted to the human placenta, as well as youtube cooking demonstrations. We'd provide links, but, well… ewww.
So what's so great about treating one's bodily discharge like some kind of vaginal wonder smoothie anyway? For starters, the Best Parent Ever has a knee-jerk disregard for most Western traditions (like, say, the traditional aversion to consuming human flesh). The Best Parent Ever loves to embrace "alternatives" — especially ones like this, that have been blessed by Mud Hut Super Moms. It doesn't matter that, for many of us, touching or consuming afterbirth is akin to crocheting a sweater vest out of used tampons, or making monkey-like mud pies with one's own feces. It's non-traditional — and that means it's best.
So take that, cannibals everywhere! You no longer have the market cornered on the consumption of human body parts. The Best Parent Ever is sucking down placental cocktails and post-natal-membrane appetizers like they are at some Tapas bar run by the criminally insane. And THAT'S why they're better than you. Just beware the next time the Best Parent Ever says they're having "delivery" for dinner — they may not be talking about a take-out restaurant.
For more "helpful" parenting tips, join the BPE Discussion Board!