Wednesday, April 9th, 2008...6:26 pm
#23: Second Languages
Comments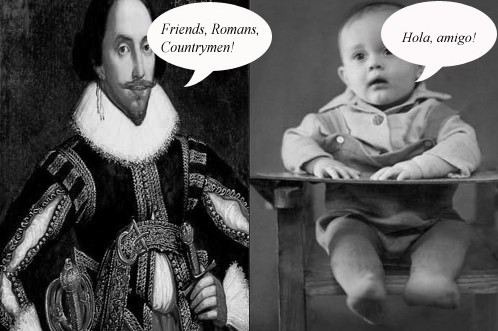 The Best Parent Ever is well aware that English is the best language ever invented. It is both the tongue of William Shakespeare
and Jerry Seinfeld
, two artists the Best Parent Ever greatly admires (although Seinfeld currently has the edge thanks to Bee Movie
, which the Best Parent Ever would LOVE to let their kids watch — IF they let them watch TV).
Despite that certain je ne sais quoi of English, the Best Parent Ever also knows that it is imperative for their children to learn a second language
. Future offspring must be able compete in the global marketplace
, or at the very least understand what those day laborers are saying about them when they are asked to remove three truckloads of toxic backyard cement in the mid-August sun (note to Best Parent Ever: chigada and pendejo are NOT proclamations of affection, gringo
).
Thus, educational toys
are littered with second language instruction settings. Evil, little, monkey-toting imps
shout out "Hola
," or "Ni hao" every few seconds on Nick Jr. And language immersion schools are springing up around the country faster than the Best Parent Ever can sing, "La-la-la-la-la-la-la Bamba
" (which, understandably, are not exactly the lyrics to that song, but the Best Parent Ever doesn't care).
"Why, all of a sudden, is there such a contretemps?" the lesser parent asks in their best French-like word. Like certain types of frogs, the Best Parent Ever is an indicator species warning of global economic catastrophes. The Best Parent Ever knows that today's toddlers will one day grow up and need to ask some ridiculous robber baron in Beijing
for a raise. And they will have to do it in Chinese
, which they will already know because their parents were better than you.
So take that, mother tongue English! Your days are numbered, destined for the linguistic trash heap or some future subtitled movie
by Mel Gibson
. The Best Parent Ever has just taught their kid how to say "Bigger cubicle, please" in Mandarin
.
And just in case global warming makes anything south of Nunuvut uninhabitable, they've also learned the Inuit
words for: "One
quonset hut
hut with a view, please."
For more "helpful" parenting tips, join the BPE Discussion Board!