Friday, March 14th, 2008...9:50 pm
#5: Baby Wearing
Comments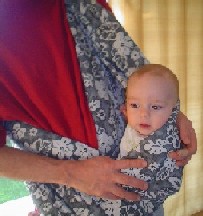 For the Best Parent who can't afford the $1000 stroller (shudder), there's only one acceptable alternative. Baby wearing. Since the Best Parent wants to give the appearance that they are a better parent than you, they will explain that baby wearing is a good "bonding" experience.
The Best Parent will also claim

they came up with the idea of baby wearing while at their local Mommy and Me class. They will turn their noses up to any suggestion that African women have been wearing their babies, using their head scarf, while balancing a jug of water and a sack of potatoes on their head, and selling hand made jewelry at the local market, for thousands of years.
The Best Parent will argue that they too need their hands free. They can't possibly be expected to read the label of their biodegradable soy based diaper wipes at Whole Foods if they are pushing little Zoe in her stroller.
Baby wearing also helps for public breastfeeding, which by the way, the Best Parent also invented. Take that, impoverished women of Africa!
And, as every Best Parent knows, overwhelming self-absorption is a potential conflict with child rearing. While thinking solely of themselves, baby wearing prevents the Best Parent from actually misplacing their child. They will know exactly where they are at all times. Right next to their designer handbag.
For more "helpful" parenting tips, join the BPE Discussion Board!