Wednesday, April 2nd, 2008...3:11 pm
#19: Baby Sign Language
Comments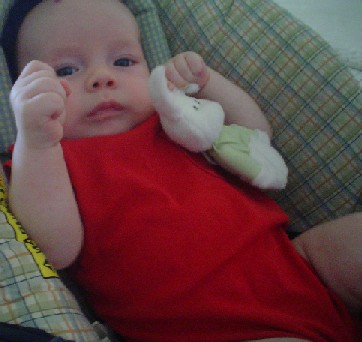 Best Parents have only one speed for their children: accelerated. And what better way to provide a head start on that rugrat race of life than teaching their newborns how to communicate in sign language — well before they can talk, walk, or even hold their own heads up for more than a few seconds at a time.
This is because the Best Parent is better than you. And they have the studies to prove it. But, the non-best parent asks, don't these people realize that the average six-month old only really needs to express three things: "I'm hungry. I'm tired. I just pooped myself." Beyond that, what kind of extended conversations do Best Parents expect to have with their infants? Perhaps a literary discussion of the underlying themes and metaphors of the latest pop-up book they've teethed on.
The typical newborn, just a few months earlier, was little more than fallopian caviar. Now they're deeply immersed in the shock and awe of simply being alive. That seems like a much more profound thought to dwell on than how to twist their index finger, pinky and thumb into the love sign for parental approval. Unless of course, those parents are Best ones, who require constant reassurance that they, and they alone, are the single greatest beings in the entire universe.
So take that, hearing impaired people of the world! Your once vital form of communication has been co-opted by the shameless and virulent ambitions of the gung-ho Best Parent attempting to fast-track their spawn. Just try to say that in sign language. You can't. And that's why the Best Parent is better than you.
For more "helpful" parenting tips, join the BPE Discussion Board!