Thursday, July 10th, 2008...1:34 am
#46: Circumcision
Comments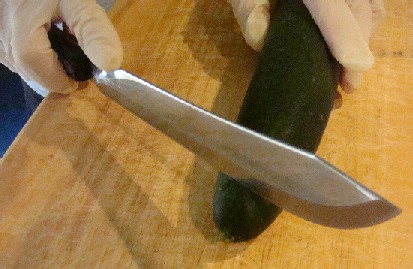 The Best Parent Ever is better than you because they know EXACTLY what's best for their new son's penis, and will fight tooth and nail and foreskin for their right to make sure you do the same thing as them.
There are three topics that will start a barfight-style brawl in any Mommy & Me — breastfeeding, vaccinations, and circumcision.  But unlike the solid science and even-more-solid quasi-science that frame the first two disputes, circumcision spats take on a much more personal form.  Suddenly, the Best Parent Ever is concerned about the future sexual sensitivity of their infant's joystick, the aesthetic appeal of an uncut knob, and whether little Johnny's johnson looks the same as his dad's, as if they are trying to somehow avoid any ill-fated comparisons between father and son while, say, promenading buck-naked together through a Gymboree.
The strange thing is: this cock fight is driven almost exclusively by mothers.  Fathers are primarily concerned with one thing regarding their son's penis: that it be big.  Enormous, in fact.  Their boys should be like a 1970s porn star (but without the mustache).  Nothing else matters after that.  As for mothers?  They suddenly know more about what's best for the male anatomy than the average urologist, sex expert, and entire non-female species combined.
So take that, trouser snake!  Your headgear is no longer determined by cultural, religious, or even medical customs, but rather The Best Parent Ever.  And that means this decision is not for members only.  It's for the whole world to hear about, just so they too can realize how much the Best Parent Ever is better than you.
For more "helpful" parenting tips, join the BPE Discussion Board!