Sunday, July 20th, 2008...7:17 pm
#48: Child Empowerment
Comments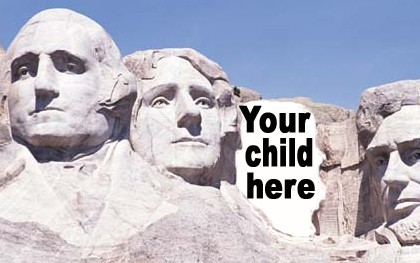 The Best Parent Ever is better than you because they are ensuring their child feels "empowered" beyond all reasonable human (or even god-like) abilities, certain to succeed in this world with little more than their good looks and Mount Rushmore-sized ego.
Let's face it: is there anything worse than the whole "believe in yourself" movement? Children's media, education, and parenting techniques are all geared towards convincing our young ones they can succeed almost by self-esteem alone. Forget hard work, lucky breaks, and rich relatives. You just have to set your mind to a certain accomplishment — sort of like programming the Favorites on an Ipod — and then it magically plays out. Except, that's not how it works. Otherwise, we would all be instant rock stars, astronauts, and the President of Canada (yes, we know they only have a Prime Minister, but empowered children won't let that stop them).
Sure, building self-esteem is important, but so much of the empowerment movement feels like a kneejerk reaction to the esteem-crushing '70s and early '80s, when today's parents were themselves growing up. On the other hand, a lot of those old latchkey kids turned out just fine. If only the same could be said of this new generation of uber-narcissists. Don't take our word for it. Just ask anyone with an older child still living at home well into their late 20s and 30s, despite a Costco-sized surplus of post grad degrees and career-making opportunities. Note to Best Parent Ever: you won't be getting that extra scrapbooking room anytime soon.
So take that, ya lazy-ass Pilgrims and your do-nothing Native American pals! How this incredible modern world was built up from a couple of maize seeds and rotten bark chips without child empowerment classes just baffles the mind of the Best Parent Ever. Too bad they didn't have Blue from "Blue's Clues" to find some food at the First Thanksgiving, or Dr. Sears to invent the papoose for the Indians. We'd all be better off by now. In fact, we'd be the Best Parent Ever.
For more "helpful" parenting tips, join the BPE Discussion Board!