Thursday, March 20th, 2008...3:36 pm
#11: The No-TV Rule
Comments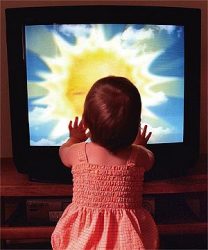 The Best Parent will be more than happy to inform you that their child does not watch TV. They'll recite statistics about how TV causes Autism, ADD, and even chronic psoriasis. Of course, they've heard these "facts" from other Best Parents, who are competing just as hard to prove they are the more proficient pro-creator by displaying an even greater disdain for the world of broadcasting.
To hear Best Parents speak, one might think hapless TV inventor Philo Farnsworth took his orders directly from Satan
, and then passed them straight to the Children's Television Workshop and that little dog in Blues Clues. The message was clear: DESTROY THE YOUNG CHILD'S MIND. Only the Best Parent was smart enough (and better than everyone else enough) to see through this global conspiracy of smart-mouthed puppets and badly-animated action toys. The Best Parent alone ensures that their child only reads great works of literature from the moment the child climbs out of its birthing tub, or off the adoption agency plane from China.
To be a proper Best Parent, however, it is not only imperative to spout the destructive natures of cathode rays. One must also secretly watch copious amounts of TV when no other parents are around, save for those on their Yahoo Parenting Group, who will fill them in on the latest plot twists of Grey's Anatomy and American Idol.
After all, who do you think is buying these costly DVRs, Blu Ray players, and flat screen TVs? Is it the non-best parent? (Insert canned laughter here from the sitcoms the Best Parent NEVER watches.)
So take that, viewers of the single most prevalent medium in the entire world! The revolution may be televised, but the Best Parent will only read about it tomorrow in the New York Times or on some ridiculous blog.
For more "helpful" parenting tips, join the BPE Discussion Board!