Wednesday, March 19th, 2008...3:13 pm
#10: Scheduled Play Dates
Comments
Since the Best Parent is very busy with some of the most important tasks imaginable to mankind, they have an overwhelming need to schedule things in their daily life. Each trip to the feng shui yoga consultant or the organic cotton aisle at Whole Foods must be well thought-out and planned in advance. And, of course, the Best Parent has already checked-in with one of their Yahoo parenting groups beforehand to make sure pesticide-free fennel bulbs are still on sale before jumping into the beloved SUV or 2008 Prius.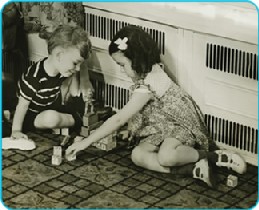 On the other hand, being the astute prodigy, the Best Parent's child is also very busy. They have enormous amounts of after-school and weekend activities, such as musical expression lessons, conversational Mandarin classes, and even athletic pursuits, such as soccer (whatever THAT is). Therefore, the Best Parent's child doesn't have the opportunity to play spontaneously with their friends. Enter the scheduled play date.
Scheduled play dates serve a multitude of conveniences for the Best Parent. They no longer have to worry that stray children will wander into their yard unannounced, wanting to distract their child from jazz guitar practice or tai chi for toddlers. Besides, the Best Parent has only bought enough Mahi Mahi for three.
Play dates work because, like family therapy and Botox injections, they can be scheduled in advance for the Best Parent's convenience and enjoyment. Randomness is for poor, non-best people living in the paths of Hurricane Katrina and Third Word dictators. Children, despite their inherent unpredictability, can be blissfully bent and twisted into schedules befitting the Best Parent's lifestyle. The scheduled play date says, "Children need to play — but so do I. I am a Best Parent — now deal with it, darling offspring."
So take that, Mommy Random and Daddy Surprise! The Best Parent realizes childbearing is a spinning roulette wheel that, with the right scheduling, will always land on the color "me."
For more "helpful" parenting tips, join the BPE Discussion Board!
(By the way, this is what a pesticide-free fennel bulb looks like.)