Tuesday, March 18th, 2008...4:18 pm
#9: Cell Phones for Children
Comments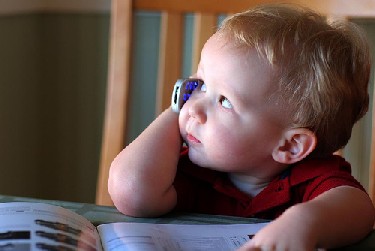 The Best Parent always has something of the utmost importance to say. On the off chance they are not at their home computer to post this profound thought of the moment to their various Yahoo parenting groups, they are forced to express this insight in other ways. Unfortunately, the non-white nanny does not speak English. And neither does the $3,000 yorkshire terrier they are carrying in their Gucci dog bag. Perhaps they could call another Best Parent friend on the phone? Not if it entails listening to someone else other than themselves talk.
Enter the cellphone they have bestowed upon their Best Parent child, sometimes as early as preschool. Nothing says "I love you" more than being able to reach their child during preschool math class to let them know the new Paul Frank t-shirts just came in at Fred Segal.
Additionally, since the Best Parent's child is being shuffled from school to dance class to art class to martial arts class to music lessons to various scheduled play dates by the non-white nanny, they understandably have a difficult time remembering their child's exact whereabouts. The obvious solution to this quagmire is a cell phone for their child.
The child's first cell phone is a big responsibility and therefore comes with a few rules. Prime among these rules is: the child is not allowed to use this cell phone. Ever. Unless, of course, it is to call their Best Parents to tell them they are the best parents in the whole wide world. Or, unless the Best Parent is calling to remind their child to thank them for getting them their very own cell phone.
The Best Parent is also teaching their child valuable life lessons. It allows their precious progeny to brazenly show off an inessential luxury to all the non-best children in the area who have to use disease-ridden payphones to contact their non-best parents. Thus, Best Parent children will learn to become better Best Parents themselves some day. Yet another Best Parent circle of life finds its completion.
So take that landline-lugging, non-best parent! The only thing more beautiful than seeing a child's first tooth is hearing them on their first Bluetooth.
For more "helpful" parenting tips, join the BPE Discussion Board!