Friday, April 18th, 2008...5:05 pm
#27: Britax Car Seats
Comments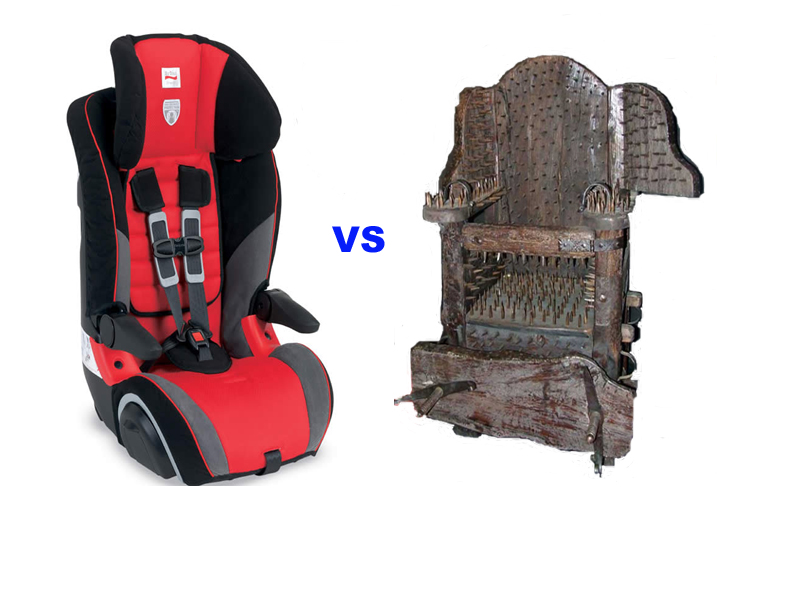 The Best Parent is better than you because they will ONLY put their child in a Britax car seat. In the Best Parent's mind, any other brand is akin to strapping one's child in an infant-sized electric chair or Iron Maiden. Fatal injuries are assured at the slightest scuff on the Prius. Someone using a Perego? Graco? Or even (GASP!) Evenflo? Call Child Protective Services immediately!
The Chicco Key Fit car seat actually scored higher in Consumer Reports safety testing (and they haven't even withdrawn that report yet). But don't tell that to the Best Parent. For them, the Britax is the perfect little, bombproof, backseat bunker that will save their brood from anything short of a direct nuclear strike. The irony is that all car seats are only effective if properly installed, and 80 percent of them are not. Remember Britney Spears problems with her car seat? It turns out, believe it or not, that she is a Best Parent too.
So, take that, safety-conscious parents everywhere! When the apocalypse hits, don't even TRY hiding beneath your Graco and Evenlo. The Best Parent child, however, will be sitting pretty inside their Britax, with nary a blemish on their 5-point harness and "comfort foam." Of course, the world will be destroyed, but at least the Best Parent will still be better than you.
For more "helpful" parenting tips, join the BPE Discussion Board!