Thursday, March 13th, 2008...10:37 pm
#4: The Most Popular Pre-Schools
Comments
After selecting a dumb baby name, the next step for the Best Parent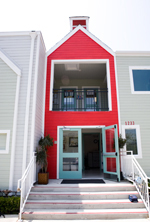 is to get their child into the most popular pre-school. The most popular school is solely based on the number of names on the school's wait list and the number of children of celebrities that are in attendance.
In less fortunate countries, people wait in line for food and other basic necessities. But, screw them. It's much harder for the Best Parent. They need to wait in line for the most popular pre-school. And these wait lists are longer than the wait lists to buy a new Prius, which the Best Parent also plans on doing. (Can't drive that SUV in the carpool lane with just one person). It's also a small bonus that the Prius is much cheaper than two years in the most popular pre-school.
But besides the wait list, the Best Parent has a tough job ahead of them. They must attend all the right Mommy and Me classes, go to all the right parks, shop only at Whole Foods and Trader Joe's, and occasionally, they must even track their nearest celebrity's whereabouts, and stalk them.
The Best Parent is not concerned about what kind of person their child will be when it's time for pre-school. After all, it's not about them. It's about keeping up with the Jones's. And the Jones's just got into the most popular pre-school.
For more "helpful" parenting tips, join the BPE Discussion Board!