Monday, March 31st, 2008...2:44 pm
#17: "Swedish" Highchairs
Comments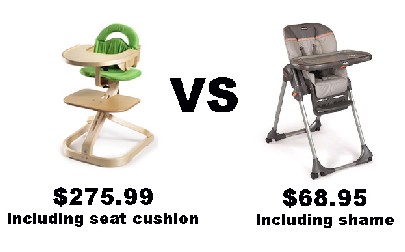 The last thing the Best Parent wants is their well-appointed house to look like a childcare facility – even though they have children. But how do they avoid the pest-like infestation of plastic playthings that clutter up an otherwise-stylish home once the precious offspring is transferred from womb to Best Parent living space? For years, the Best Parent has studiously assembled their furnishings straight out of the pages of Elle Décor and Architectural Digest, only to suddenly be inflicted by plastic dining gear that looks liked it was crapped out of the wrong end of a fast food establishment's anus. Attention, non-best parents: Fisher Price and Philippe Stark do NOT mix.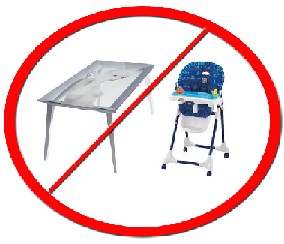 Even Best Parents realize their children need something safe and durable to sit on. Alas, it must also be pathologically stylish and cost at least triple the price of any common toy store child seat. As always, companies with Swedish-sounding names have the answer. If you thought "Ikea" after reading the word "Swedish" in that last sentence, you are obviously not a Best Parent. The real Best Parent only knows these names for their children's seating requirements:
Stokke
and Svan
.
With Scandinavian curves and an environmentally-friendly beechwood finish that just screams "I care more about my children than you!" the Stokke
and Svan
are meant to sit at the end of the Best Parents' costly dining table like a piece of stylish modern art… that just happens to hold a child…and is often smeared with mushed peas, crusty milk, and that dandruff-like grit that comes from crunched-up Cheerios. But at least it's not a Graco!
So take that, non-best parents with nothing but sturdy and colorful plastic to feed their children in! The Best Parent has turned chow time into yet another expression of their outsized and over-priced personal style.
Now… if only Versace or Vera Wang would design a stylish drool bib, family dinner would finally be something to blog home about.
For more "helpful" parenting tips, join the BPE Discussion Board!