Wednesday, July 16th, 2008...4:00 am
#47: Spanking
Comments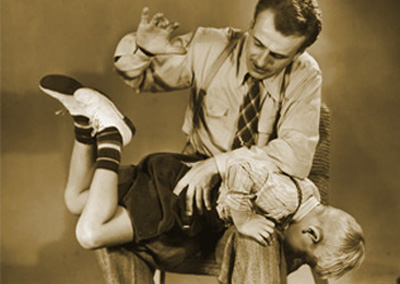 The Best Parent Ever is better than you because they never, ever spank their children. Really. Honest. They never do.
But let's face it: there's only so much you can accomplish with a "Time Out." When a child has almost killed himself or another sibling by running into the street, making them stand on the Naughty Step doesn't really do it anymore, thank you very much, Super Nanny. There is a reason human children do not have exoskeletons covering their posteriors, like, say, a Dungeness Crab or a Trillobite. This is so they can be spanked when they are bad.
But don't let the Best Parent Ever hear this. They are completely against what they call "corporal punishment," a term that seems to imply giving little Cody a swat on the rear is the same as shipping him off to Tookie Williams' old cell on death row. No doubt, there are unjustly abused children in the world. But there are even more unjustly abused parents, whose offspring are in need of a good whoopin'!
So take that, Fruit of the Loom dudes – and the buttocks you are protecting! You are no match for the Best Parent Ever when they let loose with a little power paddlin'. But really – they don't believe in spanking. Ever. And for that, they deserve a Time Out.
For more "helpful" parenting tips, join the BPE Discussion Board.