Friday, April 11th, 2008...3:27 pm
#24: Outsourcing Homework
Comments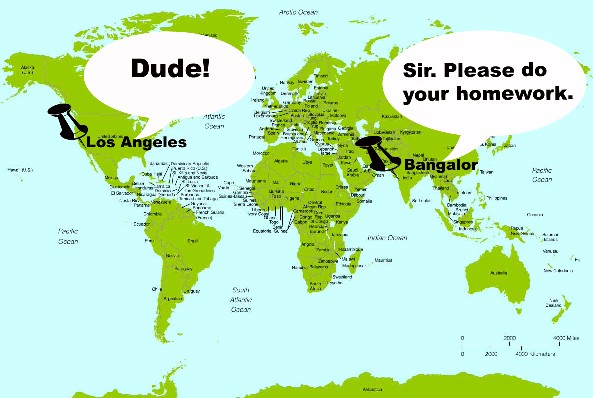 The Best Parent Ever is better than you because they provide their child with the greatest educational opportunities money can buy. Is this because they value the expansion of their child's mind? Sort of. More importantly, though, a reputable school reflects directly back on them. A prestigious academy doesn't necessarily provide better learning, but it does announce to the world that this Best Parent Ever is soooo much better than you will ever, ever be.
But what about the actual, nitty-gritty, behind-the-scenes grind of actually making your kids smarter? Well, that is a task the Best White Parent Ever is happy to outsource. Literally. The Best Parent Ever can now hire tutors in India at a fraction of the price of domestic educational help. TutorVista, with teachers in Bagalore, is now offering a $49.99 Report Card Advantage Special. GrowingStars, in Cochin, India, has an introductory offer of $15 an hour — a fifth of the average price for the same kind of service in the U.S.
Of course, both offshore tutoring companies are owned by American corporations and venture capitalists, who take most of the profits. But this is also an important lesson for children to learn. Whether it's fabricating the daily paraphernalia of their lives in toxic factories, or drilling through the impenetrable density of a child's homework-resistant mind, all of life's truly challenging tasks can — and should — be dumped on better-schooled people in poorer countries. Which is why Americans may be less educated, but they are twice as smart as everyone else. And the Best Parent Ever is even smarter than that.
So take that, caring parents who help their child with homework! The Best Parent Ever is shamelessly wallowing in top-school status, while Samir and Aditya in Bangalore do all the heavy lifting. Why yell at children to do their homework, the Best Parent Ever asks, when you can have someone in India instant message them about it instead.
For more "helpful" parenting tips, join the BPE Discussion Board!