Saturday, August 23rd, 2008...12:54 am
#53: Hating Cows
Comments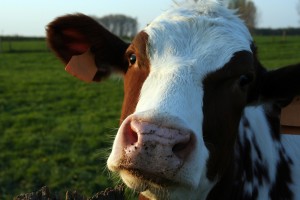 What does the Best Parent Ever have against cows?
To enter a BPE household is to discover a world without dairy. There is soy milk, rice milk, and almond milk, along with similarly-derived cheese-like products that often have the epicurean appeal of toilet grouting. For most of us, there is either cheese or "Cheez," preferably with the word "whiz" after it. Everything else is just soy pus.
| | |
| --- | --- |
| Since when did the humble cow become so despised? To listen to the Best Parent Ever, our bovine friends are so useless they should be exterminated en masse, and disemboweled in an assembly-line fashion. Oh wait… We already do that. It's called making hamburgers. Well, at least us non-BPEs suck the milk out of them first! | |
So take that, Old MacDonald! Your farm no longer rates even an e-i-e-i-o from the Best Parent Ever, with its barnyard full of lacto-toxic cows (as well as growth-hormone-bloated chicks, pigs, horses, and sheep). It would, however, be an entirely more acceptable aggro-business if your song went something like this…
Old MacDonald had a farm
B-P-E, I Am
And on this farm he only had soy.
B-P-E, I Am.
With fruit juice-sweetened treats
And flouride-free teeth
Here's a pita chip
And organic rice-cheese dip
Everywhere it tastes like shit
Old MacDonald had farm.
B-P-E, I Am.
For more "helpful" parenting tips, join the BPE Discussion Board!