Monday, May 26th, 2008...6:06 pm
#36: Breastfeeding
Comments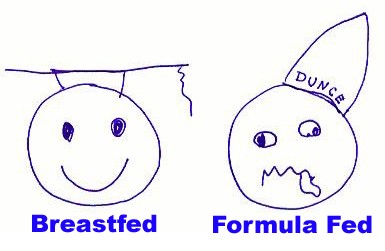 The Best Parent Ever is better than you because they breastfeed. Well, not only do they breastfeed, but they scorn anyone who doesn't breastfeed, and greet the mere mention of infant formula with the same revulsion reserved for genocidal maniacs and serial killers.
The truth is: everyone knows by now that breastfeeding is one of the best things a mother can do for their child. But infant formula is not rat poison. It is a lesser source of infant nutrition, yes, but it is not a game-ender. A good chunk of North America grew up exclusively on infant formula, and most of us didn't turn out so bad… well, except for global warming and a world financial meltdown or two.
Do not tell this to the Best Parent Ever, though. Other than the Sun crashing into the Earth and killing us all, failing to breastfeed one's child until they are well on their way to grammar school is perhaps the greatest crisis confronting the Best Parent.
So take that, milk-drained mom who just needs a break for one night! You can either pull out the leche luggers one more time, or let your child suffer a Similac-induced life of failure and futility. The "choice" is yours… Formula? Or Best Parent Ever.
For more "helpful" parenting tips, join the BPE Discussion Board!