Monday, June 2nd, 2008...9:10 pm
#37: Growth Charts
Comments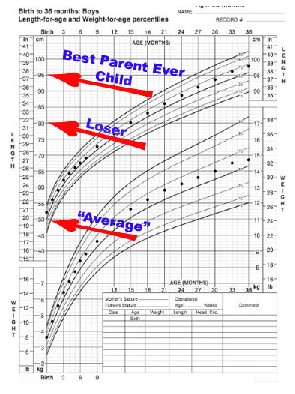 The Best Parent Ever is better than you because their child is in the 95th percentile.  "The 95th percentile of what?" you ask.  Whatever the pediatrician says!  Height?  Weight?  Intelligence?  Body hair?  It doesn't matter.  Just as long as their child is at the top.
This is because, for the Best Parent Ever, Pediatric Growth Charts are a competitive sport.  They are the highly-anticipated weekly box scores or quarterly results that let the Best Parent Ever know just how much better they and their brood are than everyone else.
Of course, "medical care" is not what it used to be, and sometimes measurements are "misinterpreted," the way unreported income or backdated stock options are sometimes "misunderstood."  But the Best Parent Ever is prepared.  Pediatric scales are "never" calibrated correctly.  Tape measures often have "misprints."  And, when all else fails, the HMOs are to blame — even if the Best Parent Ever has never even belonged to an HMO.  "That's the problem with this country!" proclaims the Best Parent Ever, without further explanation.
Why all the fuss?  Because, for the Best Parent Ever, the Pediatric Growth Chart is one of their child's first official documents in a lifelong Scripture of Betterness.  It is the preamble to a paper trail coursing through over-inflated report cards, Ivy League legacy diplomas, inexplicably-bloated stock porfolio ledgers, and, finally, a glowing obituary of at least a half page or more in the New York Times or Washington Post.
So take that, underweight loser child, who is only in the 80th percentile.  You are doomed for a lifetime of underachievement and failure.  You'll be lucky if your obituary rates a few lines in the Pennysaver, which, by the way, the Best Parent Ever NEVER reads.  You'd know that too if your child was in the 95th percentile.
For more "helpful" parenting tips, join the BPE Discussion Board!