Monday, July 28th, 2008...8:19 pm
#49: Ass Kissing
Comments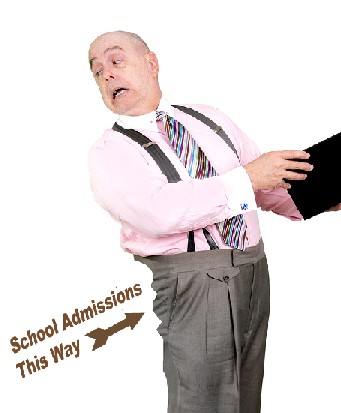 The Best Parent Ever may be better than you, but that does not keep them from planting their best brown nose firmly up the decision-making derrieres of those empowered to consecrate their toddler's future.
These revered Titans of Totville tend to be those in charge of the best preschools, sports programs, and so-called "feeder" programs… that lead to the best preschools and sports programs. Even the better public school principals are beginning to draw some fawning for spawn. The Best Parent Ever will volunteer at a school years before their child is enrolled, donate (bribe) generously at the endless silent auction and fundraisers, and partake in all manner of predatory social networking that would put the bottom feeders on myspace to shame.
| | |
| --- | --- |
| Why is it that otherwise healthy and successful alpha breeders, who would normally demean or crush anyone that far below their social class, suddenly find themselves groveling like Calcutta beggars before the Old Navy khakis of that $8-haircut-wearing program administrator? Fear. And, perhaps, a little bit of justice. After all, even "Entourage's" Ari Gold had to prostrate himself before the headmaster of The Briar Country Day School (at least after blackmailing him didn't work). "The things we'll do for our children," Ari explained through his tears. | |
So take that, Thomas Jefferson! All men are NOT created equal, especially when it comes to preschool admissions and prestigious sports programs. The Best Parent Ever knows this all too well. And while they may be better than you, they are still beholden to lowly clerks, coaches, and underpaid educators determined to make them suffer miserably for their sins. As the old (just made up) saying goes: "Can't be a B-P-E without a little kiss on the A-S-S."
For more "helpful" parenting tips, join the BPE Discussion Board!