Monday, March 24th, 2008...10:45 pm
#13: Shopping Cart Covers
Comments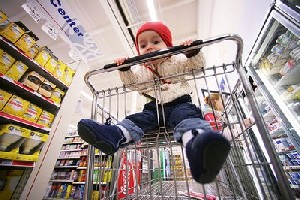 The Best Parent knows the world is filled with germs. They are everywhere. But mostly, they are on the handles of shopping carts in gourmet food markets. This is where Best Parent and best child alike shovel numerous free samples of bruschetta and tapenade down their germ-infested gullets. And where are they wiping their hands afterward? That's right — they're not! While the Best Parent loves their child more than you do, shopping cart germs lead to sick children, and sick children cramp the Best Parent's busy social schedule. But what can these Best Parents do? They have reservations at 7 pm, and their precious brood are being threatened with social-life killing child bacteria!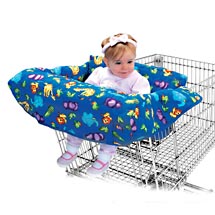 The answer for the Best Parent is, as always, to spend a substantial sum of money on something billions of non-best parents never even knew existed, let alone felt compelled to use — the shopping cart cover. Everyone knows these supermarket carts are cold metal petri dishes of disease! The Best Parent only has to look back to their European heritage to see the damage done by lax health standards. Were there shopping cart covers in 14th century Europe? Nope. And can you say Black Plague?
The shopping cart cover not only protects their child from all manner of diseases. It also announces to one and all in the aisles of Whole Foods that, "Yes, you may be eating fat free goat cheese too, but is your child ensconced in germ-free splendor? No, I didn't think so." And that's why the Best Parent is better than you.
So take that, Patient Zero in aisle 3 by the children's organic-honey cough medicine! Enjoy your night at home with the sick child. The shopping-cart-cover-toting Best Parent will be out living it up in style at their nearest upscale brasserie, slapping that same cover (without washing it) on the eatery's well-used highchair, because everyone knows luxury restaurants are teeming with diseased children as well.
For more "helpful" parenting tips, join the BPE Discussion Board!