Monday, June 9th, 2008...8:48 pm
#39: Mud Hut Super Moms
Comments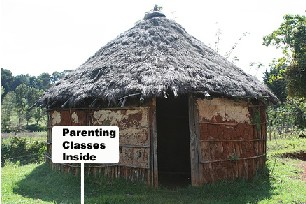 The Best Parent Ever is better than you, because everything you do is wrong. And by "you," they mean all the parents of North America, Europe, Australia, and the more developed parts of Asia and South America.
The only people who truly know ANYTHING at all about proper child-rearing are impoverished mothers living in mud huts in the Third World. Nearly every new parenting theory embraced by the Best Parent Ever starts out something like this: poor women in Africa or India can't afford diapers/food/babysitters, but somehow their kids turn out phenomenally better than yours. Next come the over-priced books and classes on, say, Natural Infant Hygiene, Extended Breastfeeding, and Attachment Parenting. This is followed by the disapproving stares and ferocious forum posts directed at anyone who strays from the Best Parent party line.
Yes, Imperialism is alive and well in the Best Parent's world. These days, it's not enough to steal a poor nation's natural resources and culture. We must also co-opt their child rearing techniques — and profit from it! One book or instructional course offered in any of these natural parenting subjects will cost the Best Parent Ever more than the Mud Hut Super Mom who inspired it earns in an entire year.
So take that, naked, starving, poopy-covered children of the Third World. No juice boxes or Pampers for you. You and your parents are at the vanguard of the latest parenting trends. Keep up the good work, and maybe in a few years, we'll send Bill Gates over to drop off some vaccines. You may live a life of hunger and misery, but at least you have inspired that most important person of all, the Best Parent Ever.
For more "helpful" parenting tips, join the BPE Discussion Board!