Monday, April 20th, 2009...3:10 am
The Best Parent Ever's Recession Guide
Comments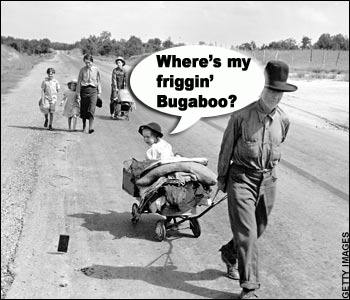 The Best Parent Ever is better than you because they will survive the recession/depression better than you, simply by following this handy BPERG (Best Parent Ever Recession Guide).
As most BPEs know, money isn't everything. But USING money to let people know you are BETTER than them is.
Thankfully, this is still possible, even with increasingly-limited resources! It just takes some attitude and a little old-fashioned obnoxiousness. Soon you too can be BETTER than them with less too.
Housing: Living it up with Liens. First off, it's not a "recession." It's a "new economy." This imbues all the BPE's financial setbacks with the veneer of cutting-edge trendiness. Some might see a plain old foreclosure sign on the lawn of that local McMansion. But not the NE-BPE (New Economy Best Parent Ever). The Trustee Sale is an au currant status symbol. "Hey, you're nobody `til your NOD (Notice of Default)."
The Stay At Home Mom is the New Nanny. That's right. The only people the BPE could possibly pay less than their non-white nanny are themselves. So here's a novel idea: take care of your own kids for a change! It will be informative, and you'll finally understand how your nanny feels. Plus, your unemployed nanny will now get that much-needed extended vacation she has been meaning to ask you about, but has been too tired and hungry to ask for.
Public Schools are the New Private. When you come right down to it, the biggest difference between that must-attend private academy and the public school down the street is one thing: reputation. Unable to cough up the $30,000 in private school tuition, the NE-BPE must radically upgrade the reputation of their local free institutions. By getting involved in the schools? Assisting teachers? Perhaps even doing extra homework with their kids? Oh, please. We said "reputation," not "real change." The NE-BPE must immediately start spam-botting GreatSchools.com and parenting sites about the incredible accomplishments of their local public school, to make them seem extra prestigious … at least until the recession ends.
Clothing: "vintage" now means "last year." Passing off your kids hand-me-downs as vintage clothing just got a little easier thanks to NE-BPE resourcefulness. In some circles, this kind of "resourcefulness" is called lying. But the NE-BPE likes to think that enhancing the historical merits of those organic onesies and overalls is the perfect anecdote to curtailed shopping budgets. And remember: it's NOT a thrift store. It's an exclusive boutique with one-of-a-kind merchandise.
Canvas Tote Bags Hide All. Can't afford to shop at Whole Foods or the Farmer's Market anymore? No one has to know. Just stuff your Wal-Mart produce in an earth-friendly canvas bag, preferably with some kind of "green" market logo on it. Plus, these bags are usually sturdy enough to carry heavy bottles of liquor, so you can "party like it's 2007!"
All-Natural Never Looked So Good. Always remind people that your deferral of cosmetic surgery and other physical enhancements is not due to lack of funds, but your newfound love of the environmental-friendly all- natural look. You're not broke. You are the new Earth Mother. Love-handles are the new Botox – everyone should have some. (And, yes, that doesn't make sense, but style — not logic — is the BPE's hallmark.)
The $25 stroller. Little Red Wagons never go out of style, especially with some real authentic rust. People spend a fortune to age their most precious goods. You can just pull the old wagon out of your parents' shed or cellar. Manure hand-carts work well too. Better make sure your NE-BPE kids have their tetanus shot!
Dumb Baby Names. Forget about Ava, Dylan, and Mia. This year's hottest new name is… Ponzi.
The Nintendo Wii. Keep this. It's a recession, not a depression after all.
So take that, jobless masses! The Best Parent Ever may be in the same financial boat as you, but their leaks are so much more stylish. That's why, even as they sink, the Best Parent Ever is still better than you.
For more "helpful" parenting tips, join the BPE Discussion Board!