Thursday, April 2nd, 2009...5:25 pm
#57: Vaccines
Comments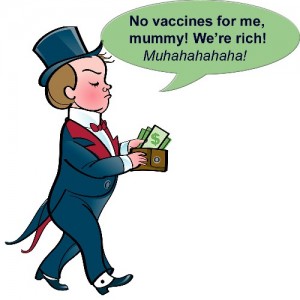 The Best Parent Ever is better than you because they have more money. Oh, yeah. And their kids are not vaccinated.
A recent study in the Los Angeles Times demonstrated what most of us have suspected all along: shunning vaccinations is a rich person thing. The study found dramatic increases in children entering Kindergarten without their shots (as high as 86 percent at one charter school). But the unvaccinated are concentrated at the highest-priced private schools, and public charter schools in the state's most affluent areas.
The non-vaccinated child is fast becoming the Best Parent Ever's new elitist status symbol. Are their legitimate risks to getting your child vaccinated? Yes, of course, there are, but they are only for the rest of you poor slobs. Today's Marie Antoinette simply cries out from her castle walls (in Brentwood): "Let them eat MMR vaccines!"
So take that, peasants and middle class suckas! The Best Parent Ever has every possible financial and social advantage over you, and now they can claim a non-vaccinated medical one as well. That is, until a measles outbreak wipes them all out at their charter school. Whoops! Score one for evolution. And the well-vaccinated non-BPE suckas of this world.
For more "helpful" parenting tips, join the BPE Discussion Board!