Tuesday, April 7th, 2009...11:12 pm
#58: Farmer's Markets
Comments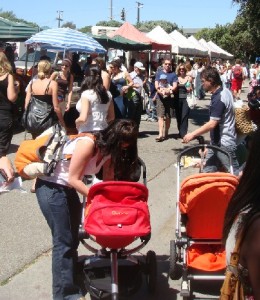 The Best Parent Ever is better than you because they share a hive mind, a single collective consciousness directed by the whims of attachment parenting experts and alternative lifestyle profiteers. Sort of like honeybees, or The Borg from Star Trek, but with better sunglasses.
| | |
| --- | --- |
| The center of the hive mind, the proverbial mothership from which all crucial group-think emanates is the weekly Farmer's Markets (every BPE neighborhood has one). There are no great proclamations or commands issued amidst the tasteful tents of organic pomegranate, wheat-free bread, and free-trade trinkets. It is a subtle exchange of social cues and non-verbal tweets. One day everyone is pushing a Bugaboo. The next: it's Foray. | The BPE – Borg Parent Ever |
Did you miss the miss that Directive from Command? Yes, of course you did. Because this whole exchange is completely invisible to the non-Best Parent Ever, who sanely eschews Farmer's Markets for the local supermarket, with its double coupon values and child-restraining shopping carts. Grocery stores are actually about gathering food, and keeping your kid quiet in the cart's child seat with an open box of crackers you haven't paid for yet. The Farmer's Market is about showing off your outstanding parenting skills and purchases, while you download the latest protocols of Best Parent Ever-ing.
So take that, Mother Earth! No one really gives a crap about your life-sustaining bounty and organic edibles — at least not at the BPE Farmer's Market. Those aisles of soy candles and manure-soaked sprouts are only here to facilitate the controlling super structure of the Borg Parent Ever. And you MUST obey. You MUST!
Either that, or take your dumpy non-BPE ass over to the Safeway to stock up on those Club Card specials. You might even find a half-eaten box of crackers in the child seat. And you won't pay for it either.
For more "helpful" parenting tips, join the BPE Discussion Board!